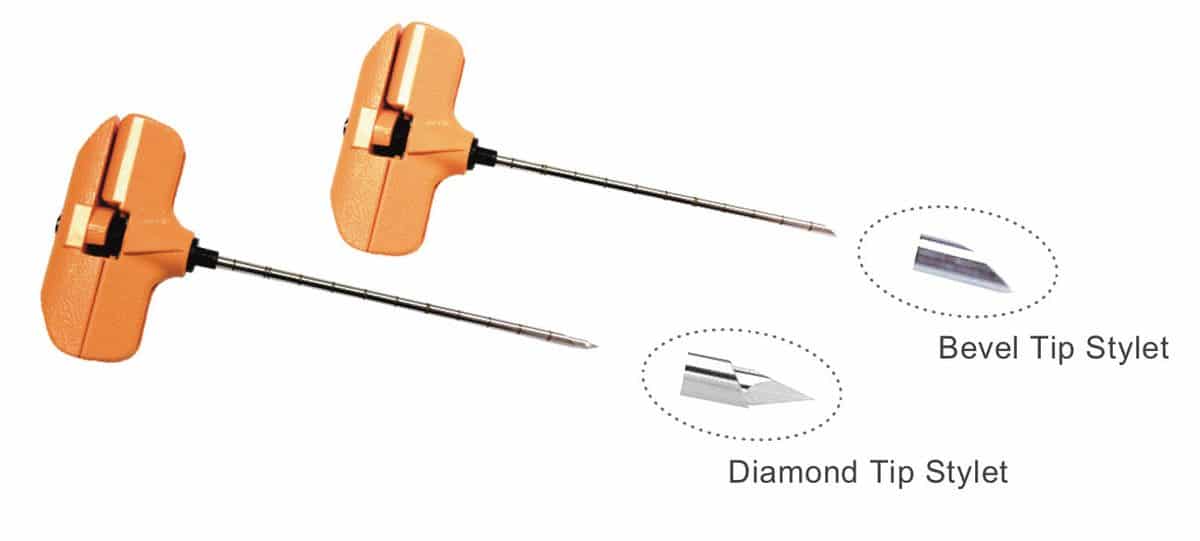 The Osseoflex Access vertebral introduction system for percutaneous access to bone.
Ergonomic handle for precise control and ease of access to the vertebral body
Provides access for subsequent procedures
Radiopaque stainless steel for precise needle placement
Diamond and bevel tip stylets included for physician choice
Low profile

Osseoflex Straight Hand Drill
Merit's family of products for vertebral augmentation or kyphoplasty includes both steerable and straight devices.
The Osseoflex Straight Hand Drill is designed for percutaneous access to bone. Straight drills are available in both 10 gauge and 8 gauge compatible sizes.
Utilizing either a unipedicular or bipedicular approach, the Osseoflex Straight Hand Drill creates a channel by removing or displacing cancellous bone for the treatment of vertebral compression fractures.
Exit marker and incremental insertion marks on the drill shaft for accurate positioning: major marks are at 10mm and minor marks are 2mm increments
Available in two sizes: 10 gauge and 8 gauge compatible
A distal marker band on the shaft indicates when the drill tip is flush with the end of the cannula
Ergonomic handle for ease of use
Designed to be turned clockwise to drill